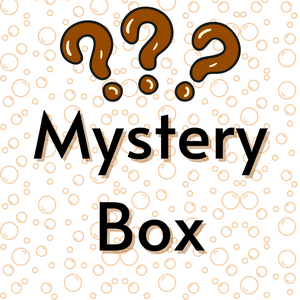 Want a little something, but can't decide? Want to create a gift box for a friend? Pick up a mystery box and I will curate a collection of 3-4 products. Each box will have a cohesive collection of soaps and accessories. If you have any specific requirements (eco-kitchen, face care, best sellers, all soap etc.), leave them in the comments and I will do my best to accommodate. 

Main soap Ingredients include: Olive oil, water, coconut oil, sustainably sourced palm oil, shea butter, lye (no lye present in the final bar), castor oil.
All of my soaps are extremely skin loving, with a high percentage of olive oil, specifically for it's fabulous moisturizing properties!
Care: To extend the life of your soap, make sure it sits in a draining soap dish and is allowed to dry completely between uses. Note: I make all of my soaps by hand in small batches. Because of this, their color or design may vary slightly from batch to batch. I try to bring my love and respect for nature to every product that I make, including using post consumer waste, recycled, reusable or recyclable packaging and labels whenever possible. My packing fill is often old newspapers, or shipping padding I have received myself. Not exactly what you're looking for? Contact me about custom orders!