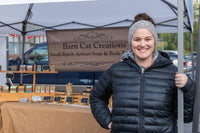 Meet the Maker!
I'm Diana, the owner, artist, sales rep and janitor of Barn Cat Creations. I create simple body and home products to help me and my community reduce our creation of waste. I avoid using plastics as much as possible, I choose sustainable ingredients and packaging materials as much as I can, and every business decision is made with the planet in mind. If it doesn't work, if I wouldn't use it on my kids, and if it isn't easy on the earth, it will not be sold by Barn Cat. 
Meet me at the Market!

Check out all of my upcoming events to buy Barn Cat Products in person
Meet me at the Market!
Check out all of my upcoming events to buy Barn Cat Products in person