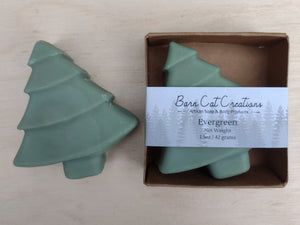 Bring a touch of the woods inside this holiday! Evergreen Tree soaps are an adorable addition to the Barn Cat holiday collection this year. Scented in Lavender & Cedar (same as the best selling lavender forest soap), these will make a beautiful and festive addition to stockings, gift baskets, hostess gifts, and more!
These soaps contain wonderful skin loving oils and butters such as shea butter and olive oil. Ingredients include: Olive oil, water, coconut oil, sustainably sourced palm oil, lye (no lye present in the final bar), castor oil, shea butter, sweet almond oil, fragrances and micas.
All of my soaps are extremely skin loving, with a high percentage of olive oil, specifically for it's fabulous moisturizing properties!
Care: To extend the life of your soap, make sure it sits in a draining soap dish and is allowed to dry completely between uses. See my other listings for soap dishes.
Note: I make all of my soaps by hand in small batches. Because of this, their color or design may vary slightly from batch to batch. All of my soaps are made in my studio in Washington's Skagit Valley. I try to bring my love and respect for nature to every product that I make, including using post consumer waste, recycled, reusable or recyclable packaging and labels. Barn Cat does not package in any single use plastic, and reuses boxes and shipping fill whenever possible.
Not exactly what you're looking for? Contact me about custom orders!